Welcome
June 19, 2020
Thank you for visiting my new website. I hope you have a great experience exploring my photographs and visual perspective.I see myself as a sort of beauty scout. Although I must admit, I don't have to search too far given beauty so abundantly surrounds us. My work focuses on finding, revealing, and expressing beauty, both in expected and unexpected places.  I am quite partial to humble subjects in some state of decay, whether they are dumpsters, rusty trucks in a junkyard, or stained pavement. As an abstract photographer, I find them to be exquisite subjects.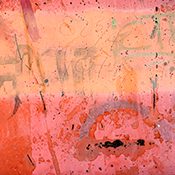 These subjects can be surprisingly beautiful and lend themselves to abstraction, where the focus in on line, form, texture, and color. While many of my photographs are non-representational abstract images in this sense, others are more interpretive. Close-up details in rust, wood, pavement, and other materials such as glass and water, are often suggestive of landscapes, animals, and people. Sometimes even fantastical creatures emerge. It is my delight to find this imagery and interpret what I find through my photography. Interpretation is a large part of the artistic process. Check out my dumpster landscape series in Projects and Stories for an example of interpretive work. However, I do encourage you, as the viewer, to look at each photograph before looking at the title I have given it. In that way you begin by bringing your own set of eyes to the image and making your own meaning rather than me directing your interpretation.
I hope you enjoy the photographs and that you will come back again and again. I have a considerable body of work that I will be adding to this site over time, and of course I will be posting new work as well. I also intend on expanding the features of this site. Thanks again for visiting. Wishing you the best!