Hello. Welcome to my website.

I am a photographer living and working in Albuquerque, New Mexico. My work is primarily abstract and macro/close-up. I find my photographic subjects all around me—flora and other forms of nature, water and ice, glass, and light. We live in a gorgeous world rich in imagery. As a photographer, I am grateful to be able to interpret and photograph these beauties of nature and life.
A large part of my photographic work focuses on subjects of less-expected beauty. I find these subjects in auto salvage yards, junk yards, and rail yards, as well as in the streets, gutters, sidewalks, parking lots, and dumpsters. These are not places one would expect to find much to photograph, but as an abstract photographer, I have found them to be visually rich, interesting, and surprisingly beautiful.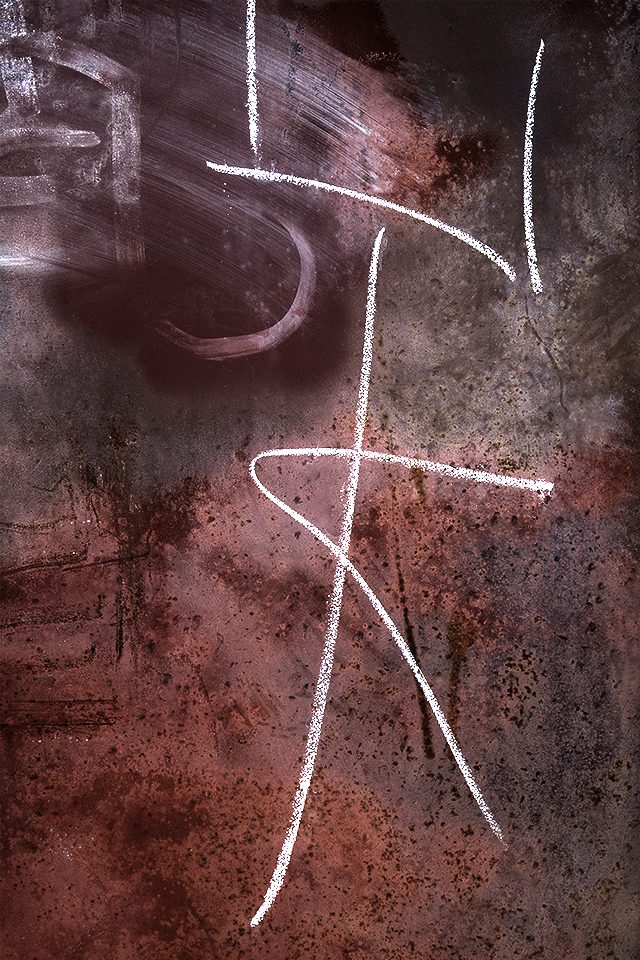 I've enjoyed working in various artistic media over the years—fiber, paper, dyes, clay, glass, metal, wood, and photography. As much as I love working in these media, photography is my true passion and the medium in which I feel best able to express my artistic sensibilities and vision.
As a young woman newly arrived in New Mexico from the San Francisco Bay Area in the early 1970s, I worked for a year in a print shop as a typesetter and graphic artist. I later went on to owning and operating a desktop editorial and graphic arts business for 15 years. My graphic arts background has definitely had an influence on my photography, which is abstract, graphic, and design-oriented.
After working as a self-employed graphic artist for a number of years, and going back to college, I completed a BA and an MA in Sociology at the University of New Mexico and began working for UNM as a staff higher education and K-12 education researcher and information manager. I was very fortunate to be able to continue using my editorial and graphic arts skills throughout my 21 years at UNM, as I developed, wrote, edited, and produced graphics and text for numerous print and online publications, as well as developing and managing websites and web-based interactive data visualizations. I believe this work had a major impact on my photography as well, and it was certainly more enjoyable than some of the more analytical aspects of my work like statistics and data management. Publication work requires an immense attention to detail and may account for my awareness of detail in my photographic subjects.
Having recently retired from UNM in late 2017, I am focusing my attention on my photography. I am out with my camera creating new work, bringing up this website, and submitting my work to national and international photography shows. I am very pleased to have been accepted into two great international shows this year, the New York Center for Photographic Art's Decay, Corrosion, Rust Show and PhotoPlace's Abstraction Show.
Thank you for visiting my website. I hope you come back again and again and find new work that speaks to you. I wish you the very best.
Wendy Kappy
June 2020
Exhibits and Shows
New York Center for Photographic Art Decay, Corrosion, Rust Show (NYC) – 2020
Visit the Show
PhotoPlace Gallery Abstract Show (Middlebury, VT) – 2020
Visit the Show
New Mexico Photographic Arts Show (Albuquerque, NM) – 2011, 2012, 2013, 2014 (Best of Show), 2015, 2017, 2018, 2019
InSight Women's Photographic Art Show (Albuquerque, NM) – 2012, 2014, 2015, 2016
Enchanted Lens Photography Club Invitational Show (Albuquerque, NM) – 2015
Image New Mexico, Matrix Gallery (Albuquerque, NM) – 2014
Publications
New York Center for Photographic Art Decay, Corrosion, Rust Show Catalogue – 2020
PhotoPlace Gallery Abstract Show Catalogue – 2020
Color It Red: Shadow & Light Magazine – 2014, 2017
Shadow & Light Magazine – Sept/Oct 2014